Since 1934, Niagara Systems has provided lab dishwashers and other equipment washing solutions to laboratories. A Niagara lab glassware dishwasher can be custom-built for washing glassware in your laboratory, science, and healthcare facilities. Automate the wash and drying process of lab glassware such as test tubes, beakers, and flasks. Laboratory washers can be customized to meet your facility's requirements for clean and sterilized equipment.
Request a Quote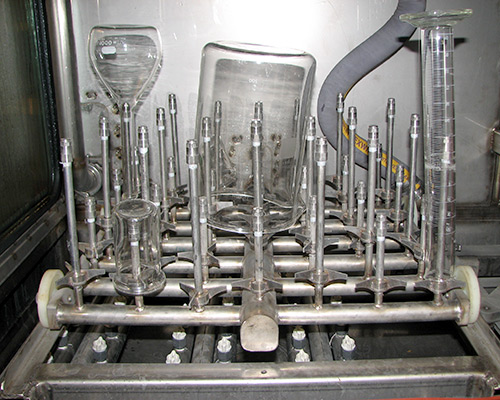 Lab Glassware Washer Applications
Our lab equipment washer solutions work for many different laboratory applications due to their rigorous adherence to industry standards. With our labware washers, you can keep your facility clean and sterile, while also protecting your equipment. Additionally, these machines reduce the possibility of harm to workers by allowing them to use the lab dishwasher instead of washing glass by hand. The types of operations that benefit from our lab dishwashers include:
High-Production Applications for Large Pharmaceutical Labs
Medium-Production Applications for Oil Bottle Washing at Refining Labs
Small-Production Applications for Small R&D Production Labs
These are just a few examples of the types of facilities that use our labware washing machines.
Laboratory Industries Served by Our Labware Washers
There are many different types of laboratories throughout the world, and our lab dishwashers can serve them all. Below are some of the most common, along with examples of our customers in these industries. As a global provider of lab dishwashers, these are only but a few of the industries and customers we are proud to serve.
Oil Refinery Labs
Some of our lab glassware washer customers in the oil refinery field are:
Saudi Aramco
Marathon Petroleum
Valero
Chevron
Shell
Motiva
Pharmaceutical Labs
Pharmaceutical customers who use our labware washers include:
Abbot Labs
Thermo Fisher
Johnson and Johnson
Pfizer
Upjohn
R&D Production Labs
Some of our lab glassware dishwasher customers in R&D laboratories are:
JSR Micro (Electronics)
TOK America (Electronics)
Lubrizol (Specialty Chemicals)
See All Industries Served
Glass Bottle Multi-Chamber Pass Through Washer and Dryer by Niagara Systems
Whether you need a simple dip washer, ultrasonic washer system, or a complex multi-stage industrial washer with drying oven, Niagara has the engineering experience to build a turnkey solution for you.
Common Questions For Laboratory Washer & Drying Systems
Cleaning and sanitizating glassware for labs and testing facilities requires a special machine that is designed to meet specific requirements. Let's take a look at some of the frequently asked questions when it comes to lab glassware washers and dryers.
Additionally, your laboratory dishwasher can be made to your specifications, accounting for any quirks or restrictions present in your facility.
What is the Best Lab Dishwasher for Your Parts and Equipment?
For most of our laboratory customers, the cabinet-style lab glassware dishwasher is the best solution. Our parts washer cabinet is suitable for a variety of industries, but its highly-advanced features and quality construction make it well-suited for laboratory applications. However, if you'd like to discuss other options, including custom solutions, you can always contact Niagara Systems for more information.
Learn About Our Cabinet Washers
For What Size Applications are Laboratory Dishwashers Best?
We can discuss your application with you to determine the right specifications for your laboratory glassware washer, no matter what size. For example, we've crafted solutions for high-production applications in large pharmaceutical labs, medium-production applications in refining labs and small-production applications in modest R&D production labs. In all of these scenarios, we've held our laboratory glass washers to the same high standards that have given us a stellar reputation across industries.
How Can a Laboratory Dishwasher Improve Your Facility?
Niagara Systems' goal is always to help our customers streamline and improve their processes. Our laboratory dishwashers:
Adhere to, and in many cases exceed, industry standards.
Keep vital equipment safe.
Maintain a clean and sterile environment.
Protect workers by reducing the potential harm that comes with handwashing.
What Countries Can Niagara Systems' Laboratory Dishwashers Serve?
While we're based in the state of Ohio, Niagara Systems is a global operation. We're able to meet the needs of customers just about anywhere. For specific questions about getting a laboratory glassware washer at your location, don't hesitate to contact us. We've worked with customers from:
The USA
The Dominican Republic
The Philippines
Turkey
Saudi Arabia
Korea
Kuwait
Australia
Bahrain
Chile
Chile
These are only a few examples — we have experience working with people from many different countries, and we're dedicated to serving everyone's laboratory dishwasher needs.
Let's Talk About Your Laboratory Dishwasher
When you reach out to Niagara Systems, we can discuss everything about your laboratory dishwasher: price, specifications, installation and more. You can request a quote whenever you're ready to begin the process. Contact us today to talk about what we can do for your laboratory!