Tunnel Washer General System Specifications
Series 200

Chamber Height
20" (Customizable)
Load Height
42"
Carrier Size
18" L x 12" W
Parts per Hour
150-300 (Part Specific)
Tank Volume
500 Gal Approx.
Overall Dimensions
21' L x 8' W x 8' H Approx.
Sound Level
<75 dBa
Pumps
60 GPM @ 15-20 PSIg
Dryer
1600 CFM 10 kW

140˚ – 220˚

Oil Skimmer
Belt Type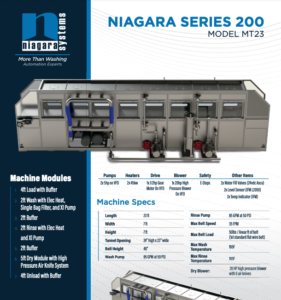 Industrial Tunnel Washing System — The Niagara Series 200
The Niagara Series 200 is a heavy-duty state-of-the-art tunnel washing system. Like all of our products, it is crafted with the highest quality materials to improve your operation. Made from durable 304 Stainless Steel, these continuous batch tunnel washers can withstand the harshest of chemicals. This level of durability makes the Series 200 a reliable addition to your industrial facility. A tunnel washer system is the best choice for medium-volume applications, especially in the automotive industry, and works well for dunnage washing.
---
Tunnel Washer System Features
From the standard features that come on all Niagara products to the ones that set our tunnel washers apart, we design everything with an eye toward quality and efficiency. Find out why the Series 200 is an incredible part of our lineup below.
Standard Niagara Tunnel Washing System Features
Stainless Steel Headers
Water and Air-Saving Valves
Completely Removable Windows
Insulated Tanks and Cover
Stainless Steel Pumps
Full Nozzle System
Controls Description
PLC-Controlled
Touch Screen HMI
Optional Part Tracking
Operator Friendly
Other Features
Pre-Strain Filter Baskets
Polished Exterior Finish
Optional Features
Final Fresh or DI water rinse
Custom Sizing
Modem Connection
Find the Best Tunnel Washer System For Parts at Niagara Systems
Reach out to Niagara Systems now to discuss how a tunnel parts washing machine can meet the requirements of your application at your facility. Niagara Systems has over 85 years of experience and can build you a tunnel parts washing system that can withstand the harshest chemicals. Tell us more about your project and its requirements today.
Typical Dunnage Wash Systems & Tunnel Washing Applications
While a tunnel washing system can work for a wide variety of purposes, as mentioned, it is well-suited for the automotive industry, including for use as a dunnage washer. These are some common tunnel washing system applications:
Air Compressor Housings & Pistons
Anti-Lock Braking System Valves
Bottle Washing
Brake Master Cylinders
Coolant / High-Pressure Hoses
Dunnage used to pack parts
Engine Blocks & Transmissions
Fuel Injectors
Fuel Injector Valves & Nozzles
Gaskets
Keys
Pistons: Aluminum & Steel
Rack & Pinion Steering Assemblies
Radiators
Spark Plugs & Piston Rings